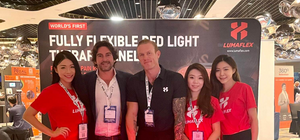 Personalized support.
Your go-to resource for questions with your Lumaflex devices. Find guides, FAQs, troubleshooting help, and contact info for personalized support. We're dedicated to ensure your experience is seamless.
HOW DOES RED LIGHT THERAPY WORK?
Red light therapy utilizes low-intensity red or near-infrared wavelengths that penetrate the skin. This enhances cellular activity, accelerating recovery and relieving pain by improving blood circulation.
THE BENEFITS USING RED LIGHT THERAPY?
Red light therapy effectively alleviates pain and enhances muscle recovery by reducing inflammation and accelerating healing. It also promotes overall health improvement.
IS RED LIGHT THERAPY SAFE TO USE?
Absolutely, red light therapy is safe, non-invasive, and
UV-free. Always follow Lumaflex's guidelines and consult a healthcare
professional if needed.
HOW OFTEN TO USE RED LIGHT THERAPY?
For optimal benefits, start with up to four red light therapy sessions daily, then adjust based on your results and comfort.
STRAP IN - Apply the Body Pro onto the muscle or joint.
POWER UP - Turn on the Body Pro and start your treatment.
SUPERCHARGE - Boost blood flow, rejuvenate, relieve pain, recover, and heal faster.
Press and hold the power button for 2 seconds to put your Lumaflex into standby mode.
When in standby mode, short press the power button to start your session.
When in session, short press to stop the session.
Place your Lumaflex Panel at the desired location and secure it with a strap if needed.
use on your belly, shoulder, back, knee, forearm, chest, arm, calf, and many other locations where you need light therapy.
Check the power outage of the the USB-A charging port, you will need 5V.
Plug in your Lumaflex charging cable and plug in the Lumaflex battery with the USB-C port.
Wait for the logo to start blinking, this means it is charging.
If the logo is fully lit up without blinking, your Lumaflex is fully charged.
Hyper Target Your

Back
Hyper Target Your

Lower Back
Hyper Target Your

Upper Back/Neck
Hyper Target Your

Thigh
Hyper Target Your

Hamstring
Hyper Target Your

Chest
Hyper Target Your

Arms/Biceps
Hyper Target Your

Shoulder
Hyper Target Your

Knee